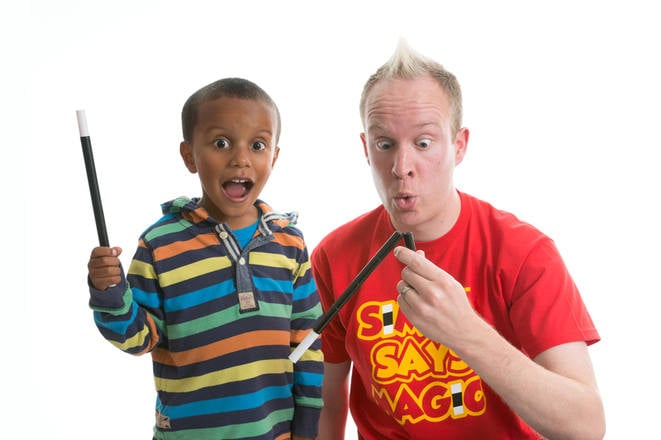 Schools across the counties often bring Simon into the their wonderful learning establishments to open up their pupils young minds to the wonders of our world told through the art of magic!
His upbeat, inspiring and mind blowing illusions will completly transfix and engage his keen audience! Laugh along with them as they enter a magical world full of wonder, colour and joy and watch as they brim with smiles when they recount a unique positive experience they've shared with you! Bundles of fun and excitmentment abound in this one of a kind interactive show which is pitch perfect for your next PTA, Christmas or even Easter event!
"Fantastic! Mixed age range, all the children loved the whole show including the music, magic, balloon modelling, interaction and games.
We could not have asked for more!"
Sue Johnson (Scamps Nursery)
"Children thoroughly enjoyed the show. There was lots for them to enjoy - children particularly enjoyed "Feathers" the parrot, many thanks!"
Sharon Moore (Bright Start Nursery)
"The performance was pitched at the right level for our 4-7yr old audience with plently of audience participation. The children thoroughly enjoyed the performance!
Mrs V Taunt (Holme Chase School)

The children will be enthralled and captivated from start to finish with the professional approach and high energy fun of "Simon Says Magic". Jaw dropping magical illusions, powerful story telling, age appropriate comedy and endearing characters await a guranteed delighted audience everytime. Simon's vast experience with giant corporate companies allows him to customise and succesfully accomodate a wide range of audiences, large or small, from intimate functions that are designed to charm and impress your very special clients or staff to large venues that need to stimulate, engage and energise an audience of hundreds!
Simon has a variety of options to perfectly suit the demanding needs of the corporate world! Award winning highly rated and well reviewied entertainment options available! So whether your clientele require a truly captivating experience that lasts mere mins or several hours, we have what you need!
Having the responsibility of choosing the entertainment for the children for your next company event can be be a daunting task especially as a quick google search will produce hundreds of potential entertainers.
Simon will go above and beyond utilising his vast experience, passion, talent and friendly manner to ensure you get all the credit for making this years company occasion one to remember!
Simon has worked with major companies including Mattel Toys, HSBC Bank, Santander, BMW, Argos, RAF Brize Norton, British Gas, John Lewis, Tescos, Morrisons, Fulham FC, Frankie and Bennys, TGI Fridays, Halfords, Bucks Railway Centre and many more!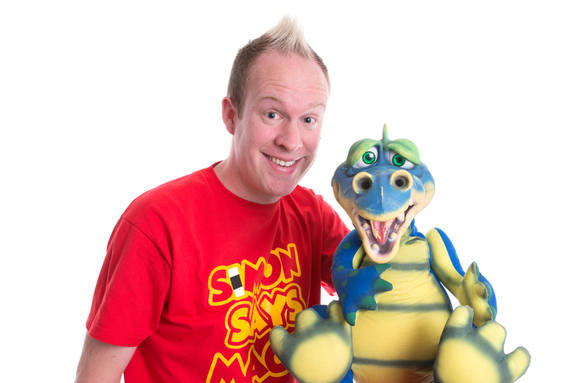 Simon did a great job entertaining kids of all ages (and adults) with his engaging and fun show!
Everyone enjoyed the entertainment. Thank you!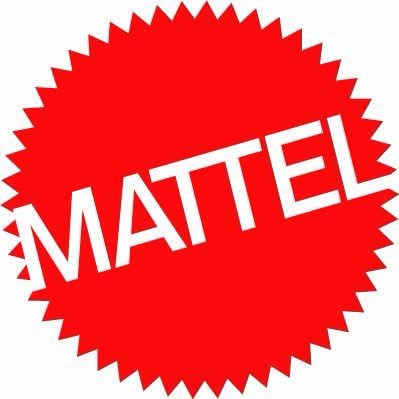 Emma Ashton - Mattel Toys
"Billiant! Kids thoroughly enjoyed it and were entertained the whole time.
A great entertainer!"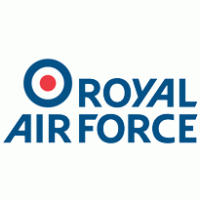 Sam Mc Intyre - Royal Air Force (Brize Norton)
"Simon has been fantastic with the children! I have booked his magic show for several years consecutively for our work's christmas party (250+ children) and always get great feedback from the parents and kids. He has great enthusiasm, energy and passion!"
"I highly recommend Simon!"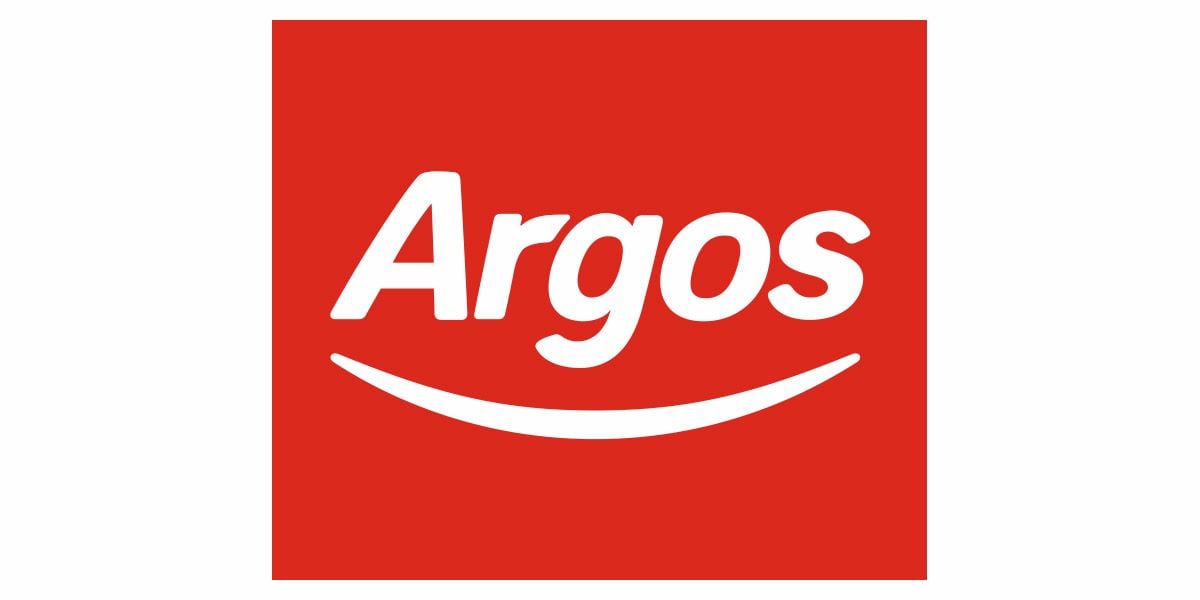 Fatima Begum (PMO Analyst-commercial transformation) - Argos
We have used Simon before and had no hesitation in using him again! He has a very good way with both children and adults and engages with them at the approriate levels. He gets a captivated audience and the active participation is very well handled. The distraction of screaming toddlers does not phase him and he is very likeable and easy to work with!
Would recommend to anyone!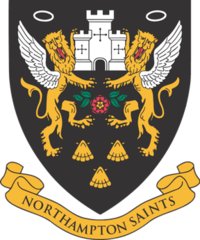 Paul Shields (Team Manager - Northampton Saints Rugby Club)
"Simon came to our annual Family office party and he was absolutely fantastic and proved extremely adaptable! His magic was wonderful - very adept and skillful and a big success both with the children and adults. I would highly recommend him, a really nice guy and a great magician for this sort of event.
We would have booked him again this year but he was already busy!"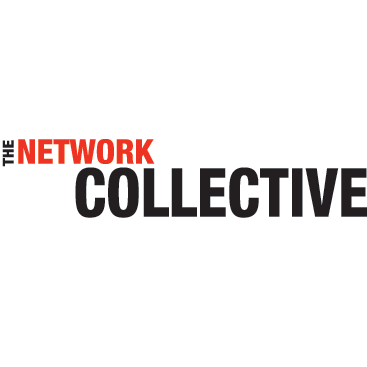 Claire Stewart (Project Co Ordinator) - The Network Collective
We have booked Simon on a number of occasions and he never fails to impress! Professional, courteous and a big hit with the crowd! Highly recommended and will definitely be booking again!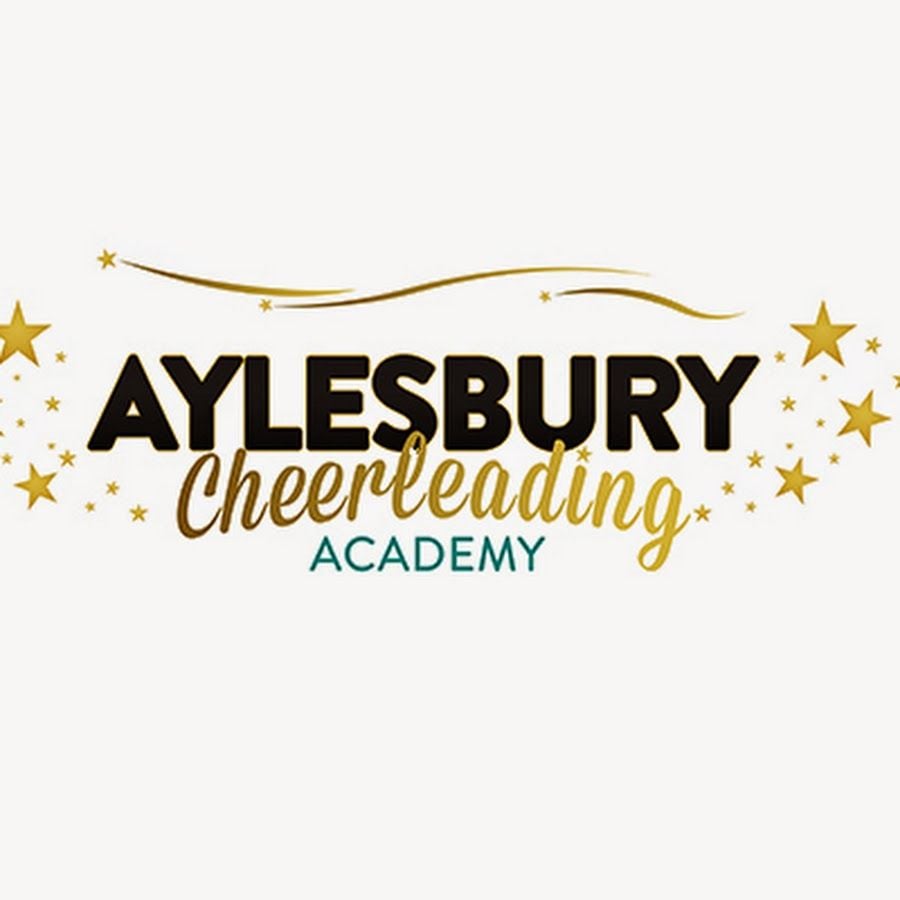 Ewan Alman - Aylesbury Cheerleading Academy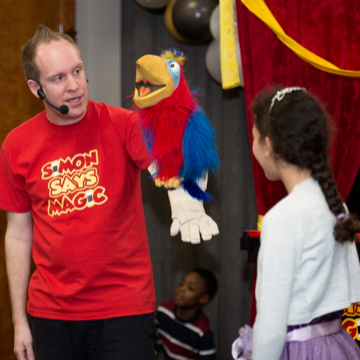 Weddings are always a hugely enjoyable and memorable event for the Bride and Groom and all their adult guests but for the children they can be a very long and forgive me for saying this, boring experience as nothing in the day is really geared to them and yet we still expect our little ones to play along and then be silent at those memorable key moments, especially during the speeches!
The great news is the day can be just as much fun for them as it will be for you!
Remove huge chunks of worry and stress from the biggest day of your life and pre ocuppy your younger guests with a tailor made entertainment concosion of fun, laughter and excitment that they are sure not to be expecting. It will be a truly special treat for them that they can anticipate, enjoy immensely and talk about long after its all over!
This will not only be a surprise but an essential part of the day as this takes care of all the children during key moments in the day. After the long heartfelt ceremony, endless photo taking and time consuming 3 course meal the children often become very agitated and express a need for a buzz of some sort, and then comes the bomb shell as they are told to sit very still and be quiet while the speeches take place and can unintentionally distract and annoy thier parents with constant nagging right when the father of the bride is ready to pour from the heart!
"A big thank you Simon! Everybody loved your magic at our Wedding,
Children and Adults! You was fab! Thank you so much!"
"I hired Simon for my wedding day and not only us but all of our guests had nothing but great things to say about him!"
Totally recommend 5 stars!
Simon Says Magic has been involved in countless public events over the years including Risborough Festival, The Little Welly Festival, Aylesbury on Sea and the Winslow Festival to name a few! His unique brand of comedic pantomine, fascinating vent puppets and jaw dropping tricks always go down a storm and are talked about by those who witnessed it long after the event!