Finding something different to do each year for your little loved ones can be a long and laborious time cosuming challenge! Sure its easy to just book the local bowling alley or soft play but one thing they certainly dont bring to your childs biggest day of the year is a sense of focus! You and your child can be left feeling a little like its a day like any other!
Luckily you've come to the right place as a Simon Says Magic birthday party brings your family and friends together to share in the laughter, wonder, excitment and of course the magic of your loved ones special day.
Your kids are only young once so why not give them the best experience they are going to remember forever.
Choose from our wonder filled party packages all crafted from Simon's experience from thousands of succesful parties and satisfied parents feedback..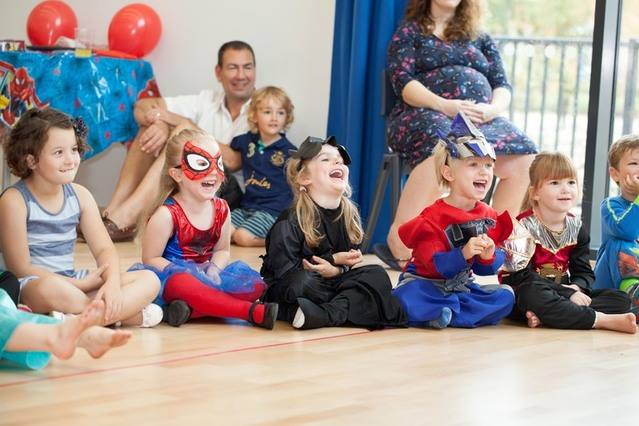 Featuring interactive party games, crazy high energy dancing, exciting challenges , memorable fun filled challenges and competitions and jaw dropping plate spinning.
Awesome balloon sculpture made specially for the birthday child.
Pulse pounding party music throughout.
Time in the middle of the party for you to feed the children.
Also contains everything from the silver package.
(2 hour party)

Featuring mind blowing magic, laugh out loud comedy, hilarious puppets and ventriloquism, all with a birthday theme.
Lots of audience interaction.
The Birthday child is the star of the show. (if they want to be)
Birthday child receives a magical prize at the end of the show.
Professional theatre style experience.
FREE downloadable party invitations.
(45min or 1 hour show)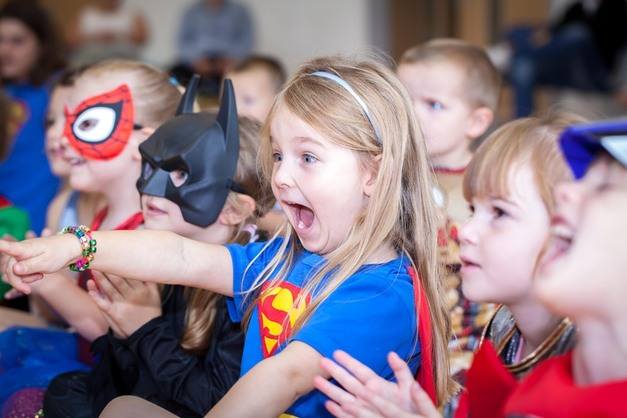 How Long? - 2 hours (includes 30min break in the middle so you can feed the kids)
What Age group? - 4-7yrs
What can my child look forward to?
Prepare your little one for the party of a lifetime as they and all their friends enjoy a custom built show tailored specifically to their attention demanding age group. The performance will be filled to the brim with laughter, mind blowing illusions and barrel loads of audience participation which wil ensure the litle ones (and the adults) are routed to the spot!
The children are sure to be replaying all the joyous highlights of the "Simon Says" experience in their minds long after the event! Also the show can be designed to your specific time needs from 30mins-2 hours.
Start things off with a bang with a colourful blend of what is sure to be the kids favourite choices, action packed party games, highly interactive fun-filled challenges, high energy dancing, heart pounding races and even guranteed fun fueled traditional games like Statues and bumps but with the "Simon Says" factor spin on it!
All games are non elimination to ensure all children are fully involved and having fun from start to finish and every child receives a prize.
Then when the children are eating they'll be soaking up the party fever listening to their favourite pop tunes! Then the special moment we've all been waiting for as all your family and friends gather to wish your child a very Happy Birthday. Grab your cameras as the guest of honour blows out the candles on their delicious cake.
After food its straight back into the fun with the multi award-winning theatre style magic show featuring Simon, his box of illusions and his wonderful cast of excitable puppet characters and their larger than life personalities that really win the kids (and the adults) over.
Children are guaranteed an incredible time like no other and the best part is the birthday child is made to feel like the star of the day as they should do and as a family you will cherish the wonderful memories for years to come!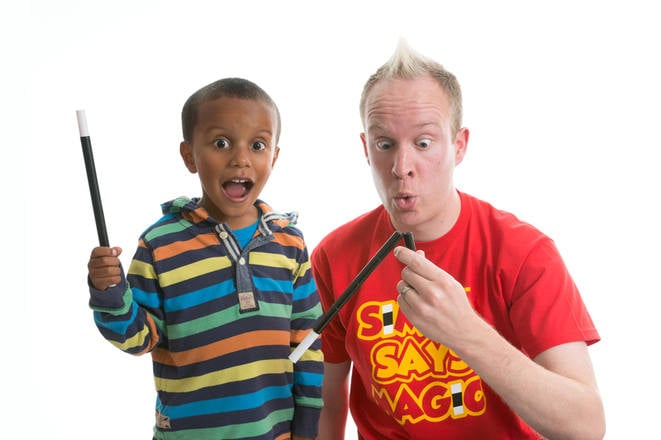 How Long? - 45min or 1 hour show
Age group? - 4-7 yrs
What can my child look forward to?
A multi award-winning theatre style show featuring Simon, his box of illusions and his wonderful cast of excitable puppets. There will be tons of laughs, baffling tricks that will even fool the adults and the best part is the birthday child and their friends become the stars of the performance! A sure fire fun filled family show that will delight everyone.